Producers Livestock Auction will be closed June 29th thru July 3rd. There will be NO SALES that week. However, we are still open to receive and to load out livestock. Our next Sheep & Goat Sale will be on July 7th and Cattle Sale on July 9th. Happy Fourth of July!
---
---
Cargile Cattle Company
We now have a herd of hair sheep. The rapid growth and the excellent survivability of the lambs as well as the ability to adapt and thrive on native pastures in West Texas make them an excellent choice as an alternative to take place of our Suffolk and Rambouillet herds. Because of the gentle nature of these hair sheep, they are easy to handle which results in less stress on the herd during a gathering, weaning lambs, and general maintenance. We have now established a herd of Dorp/Croix ewes that we are proud of. We have sold some offerings of ewe lambs at weaning the last four years and just this year held back one hundred top-end bucks to sell private treaty. Our goal will always be to sell range ready livestock to the stockmen of Texas and beyond. For more information call Benny Cox @325-234-4277 or Charley Christensen @325-234-4939.
---
---
We continue to serve you as we have for the last 66 years. Our business is considered essential in the food chain and we are having our normal weekly sales.
_________________________________________________________________________

___________________________________________________

Producers Livestock Auction Radio Market Reports
Click on the Market Report Tab above to listen to our latest radio market reports!
______________________________________________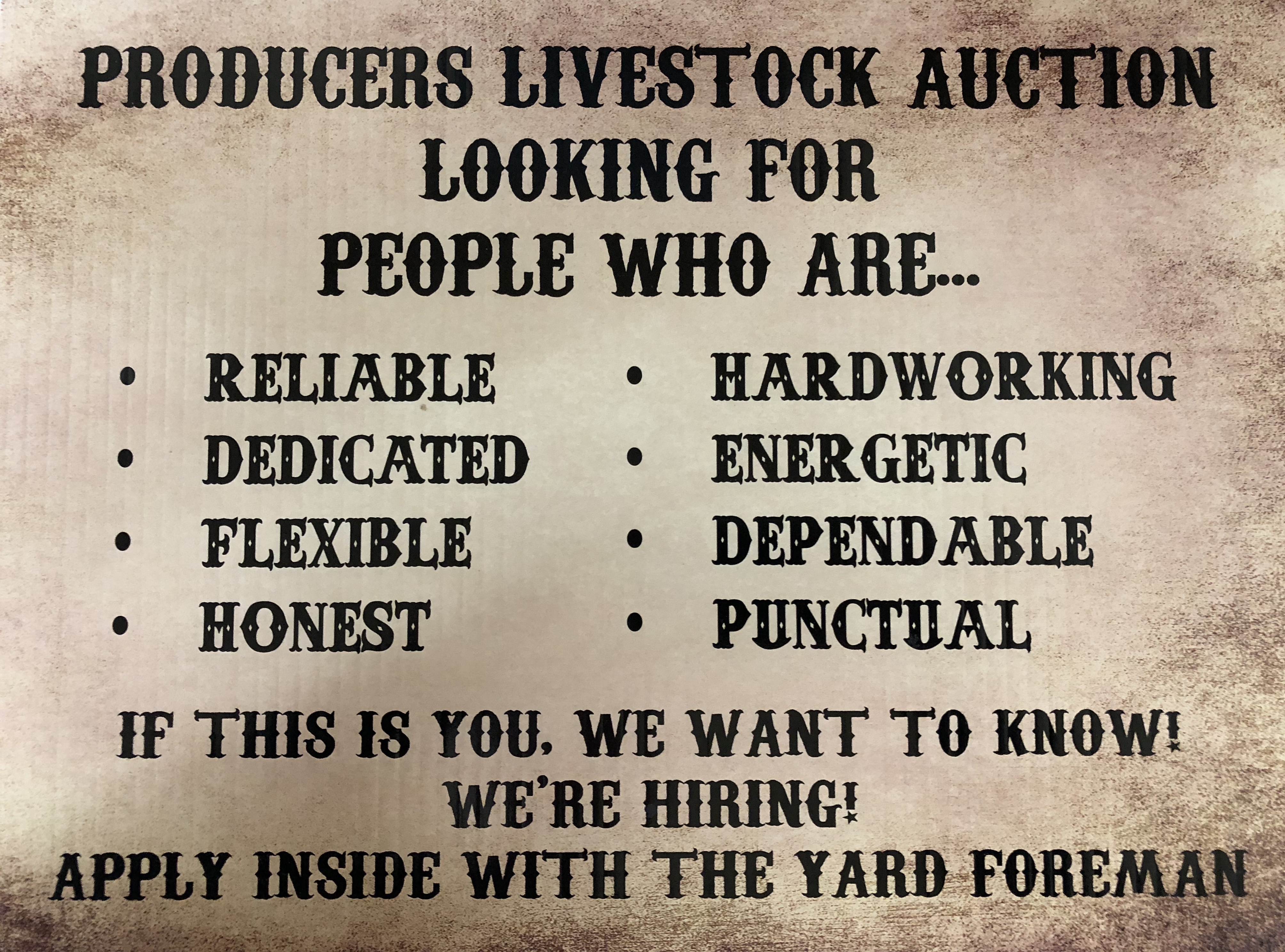 Livestock Auction Barn Hand
Duties and Responsibilities are based on experience.
We are looking for energetic people who are eager to work with cattle, sheep & goats, get along with others, willing to learn new things, take instructions and carry them out. You must be able to work in all weather conditions. There is full and part time work available.
Please Contact Vernon Mansfield at
Producers Livestock Auction
1131 N. Bell St
San Angelo, Tx 76903
Phone # 325-653-3371

_____________________________________________________________________________
We have moved the Fort Stockton Receiving Pens to:
Clay Williams 432-290-1272
52nd Lane Fort Stockton, Texas
4 miles North of I-10 off Hwy 1053
Turn right on Stone Road go to the second left which is 52nd Lane and follow the signs!
Receiving Cattle Wednesdays 8:30 AM
Truck leaves at 5:30 PM

Grain Futures Feeder & Live Cattle Futures

Large volume attracts more buying power. The greatest concentration of sheep and goat buyers from all around the United States where competition establishes the goat, lamb, Mexico export sheep market, and domestic Ethnic market. Take advantage of Producer's marketing services to assure yourself of getting full market value for your sheep and goats.
Our sheep and goat order buying division is buying livestock daily. For your private treaty sales or purchases call Benny Cox or David Quam at (325) 653-3371.
Producers Livestock Auction Company has been owned and operated by the Cargile family since 1954. Producers serves the stockmen of West Texas with a sheep and goat sale every Tuesday and a cattle sale every Thursday.
Our number one goal is to provide a market for true price discovery to determine the actual value of your livestock.
Strong Financial Background--over 66 years under Cargile family ownership.
Open 7 days a week - 24 hours a day -we're always here to receive and load livestock.
We keep your livestock separate from others so that we can properly feed them in advance of the sale for the optimum fill and minimize shrink, even adding weight back to livestock that has been hauled long distances to the sale.
Professional sorting of livestock, so we can sell them in uniform groups.
Excellent feed & water and facilities, along with a full-time feed crew.
Regular sales, Special sales, & Private treaty sales, all available for customers convenience.
Our employees work for us everyday and not just on sale days. Many of them have been with us for many years, giving a high level of expertise when it comes to handling your livestock.
We encourage you to call us for your marketing needs whether they are through the sale or private treaty. We do it all.
The Cargile Family
Owner