Third Annual Sheep & Goat Replacement Sale
Saturday, March 23, 2019 10:00 AM
Replacement quality Males and uniform groups of Females in all breeds of sheep and goats are welcome! Don`t miss this opportunity to consign early for this sale. The last two Specials have proven to be a big success for both sellers and buyers. You must call to confirm your consignment for this sale. Books are now open. All buyers must pre-register by Friday March 22, 2019.
Give us a call for more information:
Benny Cox 325.234.4277
Jody Frey 325.234.7895
Jake Wagner 325.234.8673
Mike Matthiesen 325.653.3371 (Buyer Register)
Early Consignments:
Hair Sheep Females
15 head - Registerable Royal White ewe lambs
30 head - purebred White Dorper coming yearlings
90 head - Dorp/Croix ewe lambs exposed to bucks since January 26
25 head - Dorp/Croix coming yearling ewes exposed to bucks since December and they will be sonogramed
100 head - big growthy yearling Dorp/Croix bred to McDonald & Hodges bucks to start lambing April
70 head - coming yearling bred Dorp/Croix lambing now
88 head - 1/2 to 3/4 Katahdin & Dorper cross ewe lambs exposed to bucks since November 8
100 head - big growthy Black headed Dorper cross open ewe lambs
50 head - Dorp/Croix open ewe lambs
50 head - fancy Dorp/Croix ewe lambs videoed for delivery late May early June
50 head - fancy Dorp/Croix ewe lambs videoed for delivery late May early June
50 head - fancy Dorp/Croix ewe lambs videoed for delivery late May early June
36 head - coming yearling Dorp/Croix bred to start lambing April 8th
20 head - big growthy coming yearling heavy bred Dorp/Croix
35 head - Black Head Dorper open ewe lambs
20 head - 2 year old Black Head Dorper ewes exposed to Registered Black Head buck since late December
Goat Females
150 head - high percentage Spanish nanny kids
Buck Sheep
3 head - Registered Royal White yearling bucks
5 head - Registered Royal White buck lambs
3 head - coming yearling Purebred White Dorper bucks
4 head - yearling Dorp/Croix bucks
8 head - Registered yearling Shetland bucks
3 head - yearling Royal White bucks
10 head - both Black and White Headed Dorper cross yearling bucks
1 head - yearling Black Head Dorper buck
Billy Goats
5 head - big growthy yearling Spanish billies
5 head - 5/8 Spanish 3/8 Boer yearling billies
10 head - big stout purebred yearling Boer billies
12 head - purebred Savannah yearling & 2 year old billies
_____________________________________________________________________________

PLAC Newsletter Jan/Feb 2019
_________________________________________________________

Producers Livestock Auction Radio Market Reports
Click on the Market Report Tab above to listen to our latest radio market reports!
______________________________________________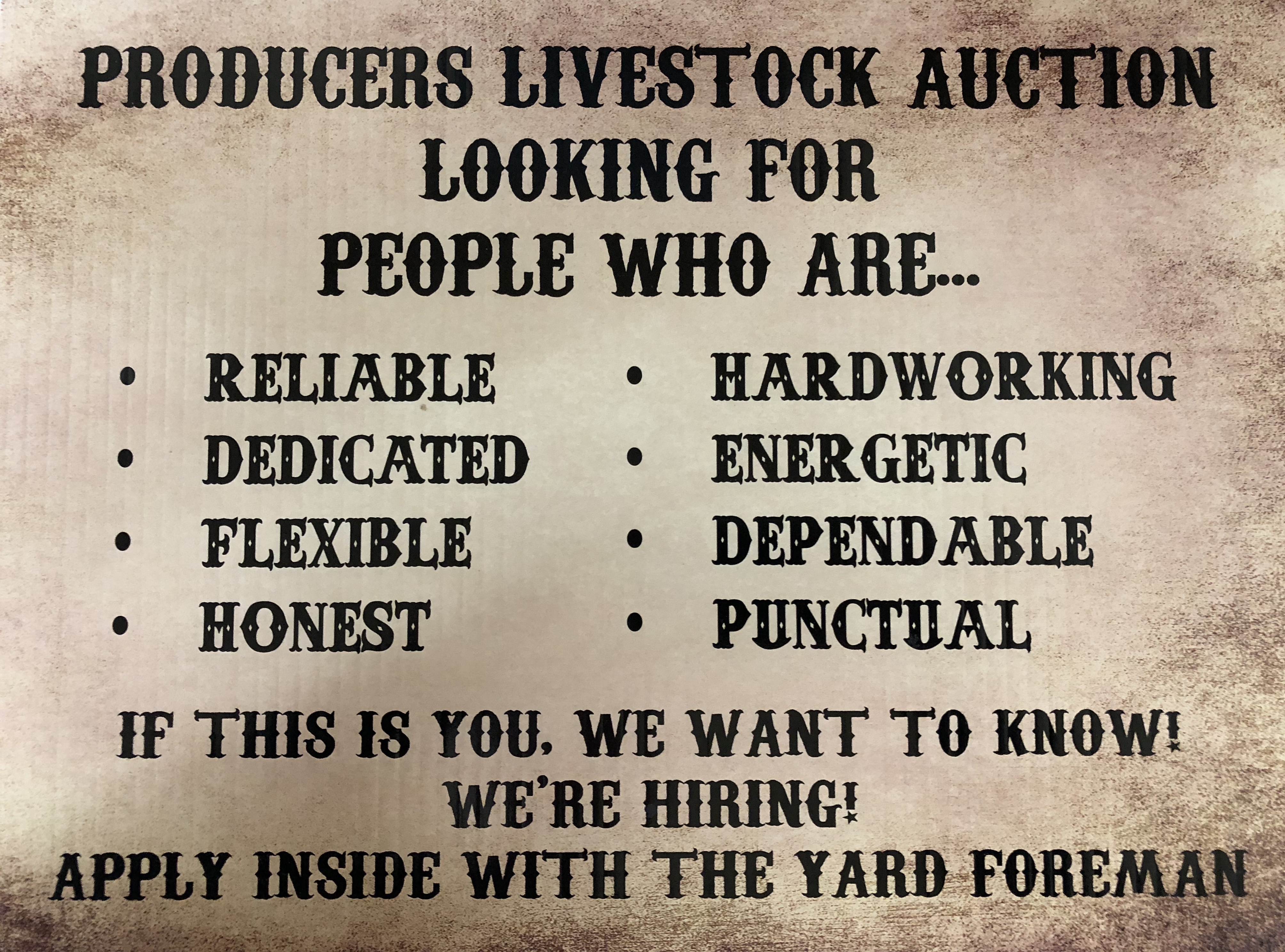 We have moved the Fort Stockton Receiving Pens to:
Clay Williams 432-290-1272
52nd Lane Fort Stockton, Texas
4 miles North of I-10 off Hwy 1053
Turn right on Stone Road go to the second left which is 52nd Lane and follow the signs!
Receiving Cattle Wednesdays 8:30 AM
Truck leaves at 5:30 PM

Grain Futures Feeder & Live Cattle Futures

Large volume attracts more buying power. The greatest concentration of sheep and goat buyers from all around the United States where competition establishes the goat, lamb, Mexico export sheep market, and domestic Ethnic market. Take advantage of Producers marketing services to assure yourself of getting full market value for your sheep and goats.
Our sheep and goat order buying division of Concho Livestock Company is buying livestock daily. For your private treaty sales or purchases call Benny Cox or David Quam at (325) 653-3371.
Producers Livestock Auction Company has been owned and operated by the Cargile family since 1954. Producers serves the stockmen of West Texas with a sheep and goat sale every Tuesday and a cattle sale every Thursday.
Our number one goal is to provide a market for true price discovery to determine the actual value of your livestock.
Strong Financial Background--over 60 years under Cargile family ownership.
Open 7 days a week - 24 hours a day -we're always here to receive and load livestock.
We keep your livestock separate from others so that we can properly feed them in advance of the sale for the optimum fill and minimize shrink, even adding weight back to livestock that has been hauled long distances to the sale.
Professional sorting of livestock, so we can sell them in uniform groups.
Excellent feed & water and facilities, along with a full time feed crew.
Regular sales, Special sales, & Private treaty sales, all available for customers convenience.
Our employees work for us everyday and not just on sale days. Many of them have been with us for many years, giving a high level of expertise when it comes to handling your livestock.
We encourage you to call us for your marketing needs whether they are through the sale or private treaty. We do it all.
The Cargile Family
Owner